"An Icon Of Luxurious &

Mordern

Life Style" 
Royal orchard housing schemes are a well-recognized name the league of high–end housing projects across Pakistan.
Unmatched in structural planning, design and civic facilities, the projects are a masterpiece of modern construction and unique features of international standards.
Each scheme is a manifestation of the lifestyle of its inhabitants since each house is a custom built unit to perfectly accommodate the personality and lifestyle of its owners. The crafting and the designing of each aspect is done with an artistic perspective which just adds more charm to each unit. Each housing scheme is surrounded by lush greenery from all the sides which gives a fresh airy atmosphere to live in. it is a delight to live in a home that offers a wealth of features and amenities.
Habib Rafiq (Pvt) Limited is known for delivering best development projects in the most stringent timelines and extraordinary work requirements of a wide spectrum of clients. The HRL group has undertaken prestigious projects of national and international significance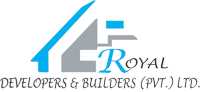 Royal Developers & Builders (Pvt) Limited is specialized in constructing world-class housing facilities and gated communities. This new phenomenon of excellence has started from relatively low-key markets, before storming the mainstream Real Estate regions.
InfraTech Pakistan (Pvt.) Limited was formed in 2000 to carry out detailed engineering works, in order to address and translated the site related facilities into engineering solutions
A concept of 24/7 residential support serices make Royal Orchard an icon of comfort
Jamian Mosque "Al-Mustafa"
Emergency Services / Transportation
WE ARE READY TO SERVE YOU IN REAL STATE